While plumbing repairs are unique to each home, there are a few common Beverly Hills plumbing repairs that homeowners run into on a daily basis.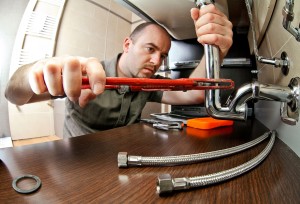 The plumbing system of a home is complicated. There are several different pipes, drains and connectors that have to function together to create a water flow throughout your home.
When one of these pieces of the system fails, the results can be disastrous.
Plumbing repairs come in all different shapes and sizes. They can be simple fixes, or they can be complicated problems that require extensive knowledge and experience.
Either way, it is extremely important that a homeowner has a professional plumber before all of their Beverly Hills plumbing repairs.
Toilet Repairs
One of the key features of your bathroom is your toilet. It is also one of the biggest plumbing repairs that require the attention of a professional plumber.
While a plunger can temporarily solve your clogged toilet problem, it is best to hire a professional plumber to avoid additional damage to your Beverly Hills plumbing system.
Problems You Might Have With Your Toilet:
Leaks
Clogs
Sewage Back-up
Septic Tank Issues
Back Flow Preventer Malfunctions
Leak Pipes
The pipes in your home are constantly being filled with water. It is their job to transport water to different locations in your home.
As water flows through an area, it eats away at the piping material. Eventually, your pipes will become warped and damaged.
A leak can be so slow that you don't even realize it is happening. Here are some warning signs of a leak.
A reduction in water pressure
A build up of water in an unusual spot
Soggy grass or a sunk in yard can be a sign of an underground leak
The sounds of running water when the water has been turned off
An increase in monthly water bills
Busted Water Pipes
A busted water pipe is one of the most unexpected plumbing repairs, and it is one of the most inconvenient plumbing issues. A busted water pipe can happen at any time of the day or night.
It is crucial to have a professional plumber that offers emergency repair services so you are not left with a broken pipe during the middle of the night.
Clogged Pipes
We have already discussed several things that can go wrong with the pipes in your home, but clogging is one of the biggest issues. A clogged pipe can easily result in other plumbing issues within your home.
If you have noticed the water in your sink slowly draining, or not draining at all, there is a chance you might have a clogged pipe.
How to Avoid Clogged Pipes:
Install a drain catcher or strainer to keep large items from falling down your drain
Put ice cubes down your garbage disposal to clear clogging
Pour hot water down a drain to eat away at the clog