There are two primary applications for Hydro-Jetters.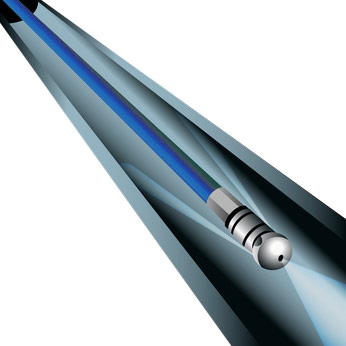 First, Jetters are very effective for removing obstructions such as grease, paper, scale, hair, sand, silt, soap build-up, and miscellaneous debris in sanitary and storm main drain piping systems.
Second, at TV Plumbing, we recommend jetting for preventative maintenance. Sewer and drain lines that are susceptible to frequent or regular blockages often respond well to regularly scheduled jetting before blockages get a chance to develop and turn into emergency problems.
Hydro-Jet Limitations
We do not use our Hydro-Jetter for cutting roots (although it can) because the roots will always grow back. When we suspect that root growth is causing damage to your Los Angeles home's plumbing system, we recommend a video pipe inspection after the hydro-jet has cleaned the piping. With video pipe inspections, we are able to precisely locate where the roots are affecting your pipes.
Our professional plumbers will then document any other structural problems within the sewer piping in order to provide you with a comprehensive plumbing service analysis. When repairing the root entry, we always recommend a surgical excavation as necessary. The video inspection allows us to repair and replace smaller sections of pipes.
Experience is a brutal teacher, and after decades of sewer remediation we are totally committed to presenting you with all available options and their long-term ramifications. We want you as a customer for life not the life of a job warranty. As a local family owned and operated company we understand what it takes to obtain and retain your trust and confidence.
Hydro Jetting in Los Angeles, CA
Drain Cleaning
Blockage Removal
Video Drain Inspections
Hydro Jet Pipe Cleaning