Your piece of mind is important to us at TV Plumbing. That's why we only use the highest quality of sewer line equipment and supplies.
Are you having problems with your Los Angeles home's sewer lines? Are you looking for a local plumber who can help? Not all plumbing professionals offer sewer line leak detection, clog detection, or state of the art sewer line repairs.
Your piece of mind is important to us at TV Plumbing. That's why we only use the highest quality of sewer line equipment and supplies.
Our experienced Los Angeles plumbing contractors are professional technicians who can analyze and troubleshoot any sewer line problem you might be experiencing in your home.
Hydro Jetting
Sewer Blockage Removal
Leak Detection
Video Pipe Inspections
Pipe Cleaning
Drain Clog Removal
Repiping
Trenchless Sewer Repair
Drain and Sewer Pipe Maintenance
Sewer Line Repairs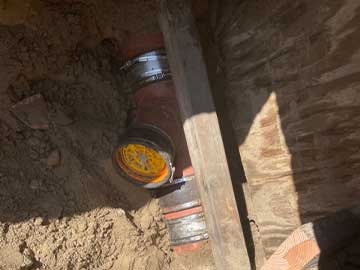 If you have a puddle forming on your lawn that leaves you wondering or an area of the landscape that has a powerfully not so wonderful smell, you likely have a break in your sewer line.
Many things can cause a sewer line to fail, whether it's due to old age, a heavy commercial truck that crushes them, or freezing temperatures and tree roots growing into the lines.
Whatever caused your sewer lines to need repair, call our experts at TV Plumbing. We'll have your sewer lines all fixed up quickly.
Our use of a hydro-excavator allows us to dig sewer lines and safely expose underground utilities with little to no damage to your property.
Dealing With Blockages & Clogs In Sewer Lines
Many people do not know that the kitchen sink and laundry drains are connected in multiple places, so what happens in one can affect the rest. The toilet, sink, and tub all share the same drain pipes, so if you have a line blockage and not a fixture blockage, it could affect more than one of these areas of your home.
If you have inadvertently dropped something down your kitchen or your bathroom sink drain, such as a ring or a small toy, all is not automatically lost. Your professional Los Angeles plumber can likely find anything metal or heavy enough not to get washed down to the sewer in the drain trap. Your missing item should still be in there.
Drain cleaning and sewer line clog cleaning should never be done with the use of store-bought home drain cleaners due to it's corrosive properties. Pipes and connections made of metal will get damaged. A professional hydro jetting would be the proper way to safely clean any clogs or sedimentary buildup.
TV Plumbing offers the best all-around Los Angeles sewer line services. We use the latest tools and technologies to make a significant difference in project costs. Save time and frustration by calling us in when you have sewer line problems that need attention.