Commercial Plumbing Projects - Repairs and New Installations.
When it comes to large scale plumbing and sewer projects, the need to work with an experienced and capable company is a must.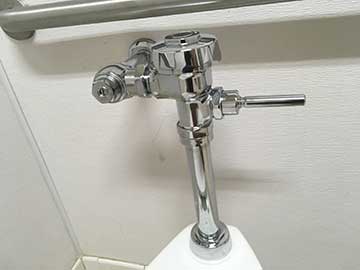 Commercial toilet repair (Sloan valve upgrade) in Los Angeles CA
We specialize in the large and more complicated sewer and plumbing projects others just can't handle well. Our clients do not have the time or money to throw away taking chances on unproven and inexperienced plumbing companies.
We have the vast experience dealing with both new installations and major sewer repairs for both commercial and industrial organizations that require more than the average plumbing company has seen working exclusively with just residential.
The owner of TV Plumbing is well known for his vast knowledge and ability to navigate all the ins and outs required to handle the larger, more complicated plumbing projects. There is no cost savings when a job is not done right, and that is where the true value is clear.
Working with TV Plumbing & Sewer for your large scale sewer or plumbing project with give you the peace of mind knowing the job will be done right and completed on time and on budget.
If you have a project that requires the eye and steady hand of a true professional, give us a call today and ask to speak directly with the owner, Paul Venya.