No one wants to face replacing their hot water heater. Make sure you're getting the full life out of your water heater with a professional plumber who can help preserve it.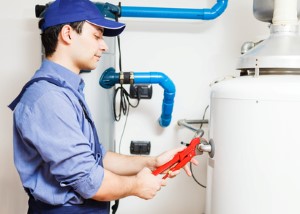 Most hot water heaters only last about 15 good years. But you can preserve your Los Angeles water heater a little longer by calling your local plumbing company.
The hot water heater is one of the most important plumbing components in the home. In fact, it is THE most essential plumbing device as it serves up hot water for daily tasks that we do such as bathing, cleaning, and laundry.
Common problems that affect hot water heaters in the Los Angles area are the following:
Noisy tank
Not enough hot water
Leaks
Pilot light
These problems are commonly associated water heaters. If you're facing them, you need to call an Los Angeles hot water tank specialist. Normally you can find them at a plumbing firm where they can do repairs to them.
Repair and maintenance will help to preserve your tank. Maintenance can go a long way as far as a water heater is concerned. As the homeowner, it is your responsibility to check for the following on the tank:
Check temperature settings
Relief valve should be inspected
Remove sediment
To remove the sediment from the tank, have a bucket prepared and put it directly underneath the drain valve. Turn the valve on and fill up the bucket. You should see sediment as it settles to the bottom of the tank.
If you're getting hot water that smells like rotten eggs though, you're going to need a plumber. A professional plumber will come to your aid and check your tank. Rust colored water and popping noises means that there's problems.
In the meantime, check around the tank to see if there's water pooling. If there is, this means that you need immediate assistance. Most families depend on their hot water tanks to deliver clear and fresh hot water.
Plumbers are trained to spot those and other problems. If your hot water tank, gas or electric, is showing signs of despair, call the local water heater experts at TV Plumbing & Sewer. You'll always get the best customer service and craftsmanship in the L.A. County area.
Don't risk having to replace your water heater. Whenever you call in Los Angeles water heater experts, you'll be in good hands knowing that you'll be able to extend the life of your tank. Call today for details on how to set up a consultation.